Description
Product Overview
Hisense smart TV has a 32 inch, ultra clear screen. This Hisense FHD TV can play content from online and other devices in high resolution pictures and sounds. The Hisense 32 Smart TV gives a realistic touch to the onscreen world, making you a part of the action-packed sequences and thrilling car chases. This TV has a 32 inch display that wows by offering breathtaking HD visuals. The four times clearer and sharper picture resolution makes the content come alive with mesmerizing details and vibrant colors. Completing the entertainment are the theater like sounds coming from the Dolby Digital audio technology. This TV has much more to offer than just being your typical idiot box. Switch on the Internet using its built in WiFi connectivity and indulge in your favorite online content in brilliant high resolution quality. It also has many connectivity options, allowing you to plug external devices such as USB drives into the TV for viewing their content on its big screen.

Superior Connectivity Prowess
Built-in WiFi allows easy streaming of online content on the TV. Preloaded Opera store for easy browsing. Screen mirroring copies the content from a smartphone on the large screen of the TV. VIDAA OS offers intuitive and easy to understand user interface. Digital media player to play content from external devices. Multiple HDMI ports play the content from external devices with crystal clear visuals and sounds. Multiple USB ports allow easy connection of compatible external devices with the TV.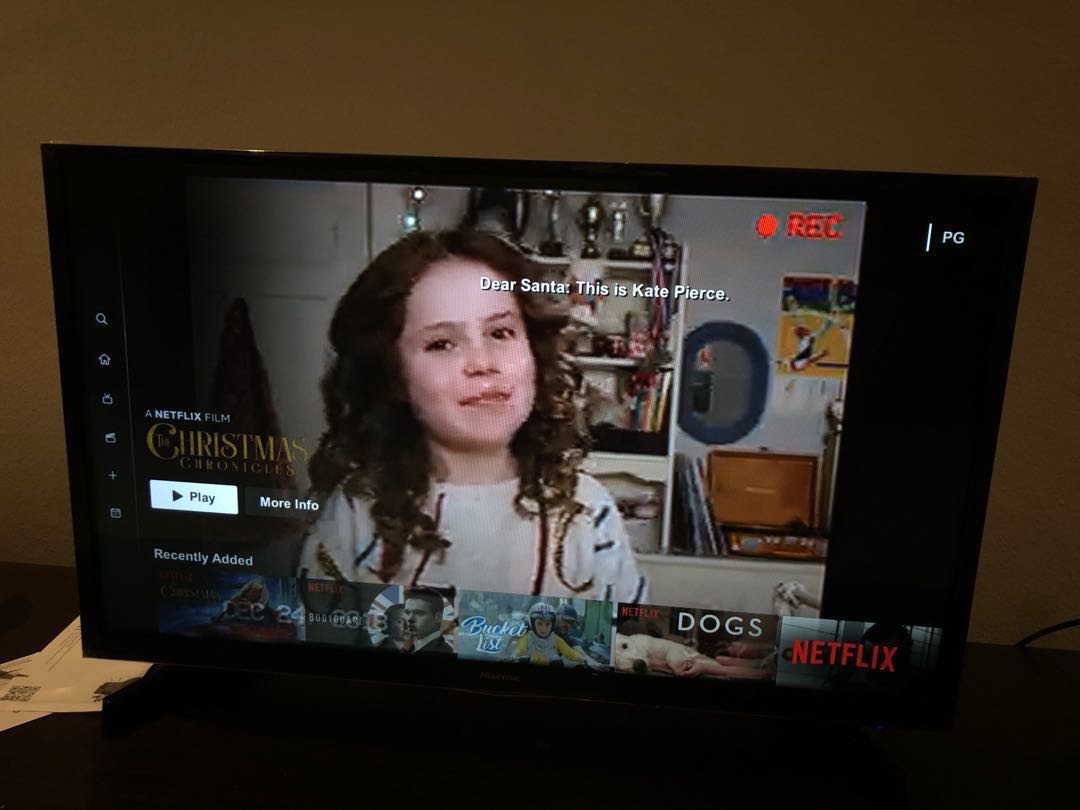 QUAD CORE PROCESSOE
Quick response from the remote, easily switch between sources, video streaming is smooth are a result from the power of the Quad Core processor. WithNetflix, YouTube, Icflix and much more on board, enjoy the extra power! Netflix is the world's leading Internet subscription service for enjoying TV shows and movies. Netflix members can instantly stream their favourite TV shows and movies right from their Hisense TV. Get the latest Netflix shows and movies up to Full HD resolution, available on select Hisense TV's!
Astounding & Immersive Sound
The Hisense 32 inch screen brings the feel of theaters at home. FHD picture resolution breathe life into an image with extraordinary clarity, illumination, and bold, rich hues. 178 degree viewing angle provides a clear, sharp, and bright view of the screen from any direction. Dolby Digital audio technologyproduces crystal clear, deep, and stereo sound. Two, high definition built in speakers deliver loud and crisp sound. Band equalizer to manually adjust the sound according to preference
General Specifications 
Full HD 1920 x 1080 LED Panel
60 Hz Native Refresh Rate
Motion Rate of 120 Enhances Fast Motion
3 x HDMI / 1 x USB