Description
Product overview
The Hp 15-bs198nia Laptop packs a processing punch to keep up with your daily computing needs. It is driven by an Intel Core i5-8250U Quad-Core processor that ensures smooth web browsing and video streaming without compromising the battery life. This HP laptop features a 4 GB DDR4 RAM that provides smooth responsiveness for seamlessly multitasking. Furthermore, the integrated Intel UHD 620 graphics card enhances the performance of games and editing applications. This HP 15 laptop packs a 1TB internal hard drive that provides ample room for your entertainment and work-related files. With the intuitive interface of the Windows 10 operating system (sold separately), you can get more work done in a quick time.
Distinctive Features
The device comes fitted with a massive 1TB(1000GB) hard drive with a spindle speed of 5400rpm, on which you can save volumes of data and access it anytime. The HP Pavilion 15 battery, a powerful Lithium Ion type, adds to the portability quotient of this notebook. A webcam with integrated digital microphone come paired on this laptop, which makes it an ideal choice for your personal as well as professional use. The gray colored body of this device looks smart and sophisticated. The HP Pavilion 15 features a full sized, island style keyboard with a numeric keypad that can make an accountant glow with joy.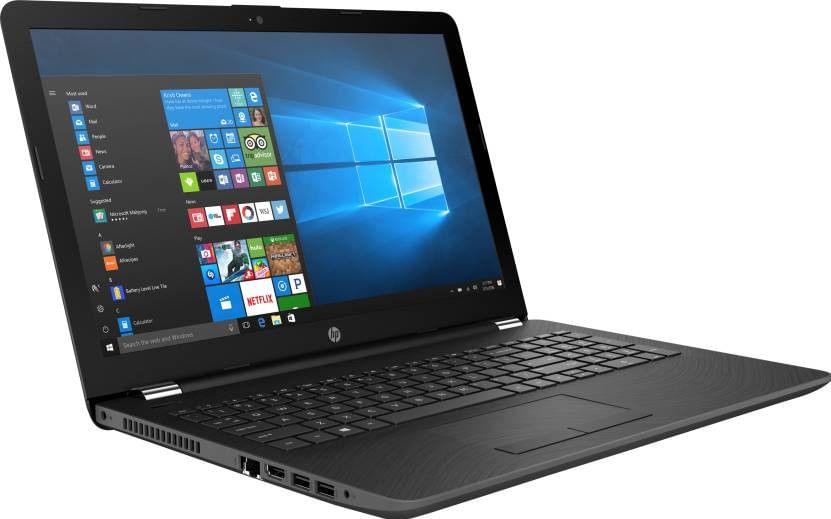 Innovative Display
The HP 15 reviews talk about the innovative display that forms a part of this laptop. Equipped with a 15.6inch HD BrightView LED backlit display that assumes a screen resolution of 1920×1080 pixels every minute detail is presented in vivid clarity and lifelike accuracy. This screen becomes a part of the narrow dimensions of 38.45 x 26.02 x 2.39cm and a svelte silver exterior that is exquisite to behold and easy to port.
Glitch free performance
As for the HP 15 technical specs, the laptop incorporates Core i5 8250U processor with a clock speed of 1.60GHz to provide you with a glitch free performance. This processor unites with the 4GB RAM to allow you to run multiple applications at the same time without worrying about the device lagging or breaking down. Furthermore, the full-size island-style keyboard lets you type comfortably for hours. Moreover, the touch pad with multi-touch gesture support enhances your productivity. Thanks to the HP TrueVision HD Camera and integrated digital microphone, you can video chat with your colleagues and loved ones with outstanding audiovisual clarity.
Stay connected
The HP 15 is one the best HP laptops available in the market today. With a WiFi 802.11b/g/n standard adapter, this laptop enables you to access available wireless Internet networks in the vicinity for speedy Internet connectivity. Its Bluetooth v4.0 connectivity allows you to connect this laptop to various compatible devices, such as smartwatches, wireless speakers, etc. for a more versatile computing experience.
8th Generation Intel
The 8th Generation Intel Core i5-8250U is one of the first quad-core processors in the mainstream Core U lineup. It's an important chip on the market since upgrade from the previous Dual core U-series processors to quad-core is a big leap. That's visible in the i5-8250U benchmark results. Extra performance over its7th Gen i5-7200U dual-core counterpart while retaining low (15-Watt) power consumption and low heat is a great achievement. The Intel Core i5-8250Uis therefore a great choice for those who want fast laptop computing without sacrificing portability or battery life.
General Specifications
Intel Core i5-8250U 2.50GHz
4 GB DDR4, 1TB(1000GB) 5400rpm,
15-Inch, 1920×1080 pixel
 Intel HD Graphics