Description
Product overview
Samsung Galaxy A80 is built for those who live their lives in the moment. Whether you're creating, performing, or just sharing, you can shoot epic on both sides with Samsung's innovative triple-lens rotating camera. See your stories and games come to life on your New Infinity Display while being powered by the 25W Super Fast Charging technology. The Galaxy A80 is protected by Knox, so you know your data and device is secure from the inside-out. Meet the new Samsung Galaxy A80.

Brilliant Display
Samsung Galaxy A80 brings you a display designed for Live The maximized New Infinity Display is near bezel-less, no notches, and no distractions. Galaxy A80's 6.7" Full HD Super AMOLED offers a big and bright canvas to explore content, stories, connections, and creativity. Now there's more room to play. Whether streaming or watching your favorite shows, the expansive aspect ratio is a viewing experience that takes you to new worlds. Samsung Galaxy A80 is designed for you, designed for life, The Galaxy A80 has a minimal look thanks to its integrated sensors and the On-Screen Fingerprint

Secure Fingerprint Scanner
While using the Samsung Galaxy A80 Your fingerprint is the key, The revolutionary on-screen biometric authentication automatically recognizes and verifies your fingerprint to get personalized access. You'll have peace of mind knowing that your data is fully secure and that you can have access to your phone when you need it. Simply tap and go

Android 9.0 Pie
The Android operating system integrates heavily with Google's services. It's a personalized and customizable OS, allowing you to add your favorite apps or widgets to your home screen. You can even download new themes using the Google Play Store, which offers access to millions of apps, games, books, music, movies, and more. Android 9.0 Pie adds a variety of predictive capabilities, navigation changes, and digital well-being enhancements that let you take control of your Android experience. By learning how you use your phone over time, Pie will automatically adjust certain features for you, such as battery usage and display brightness. With App Actions, Pie uses what it learns to get you to your next task quickly. For example, plug in your headphones and Pie will automatically bring up your last playlist.

GSM / 4G LTE Wireless Connectivity
Samsung Galaxy A80 is designed to work on select GSM networks and is 4G LTE capable. LTE is an advanced cellular network data protocol capable of data speeds so fast that they compete with wired broadband Internet providers. With an LTE connection, this phone should have no problem streaming HD video, downloading apps, uploading photos, or anything else that requires a high-speed data connection. The phone is also backward compatible with 3G and 2G datafor instances when you can't get LTE. In addition to cellular wireless, this phone also features Bluetooth and Wi-Fi connectivity.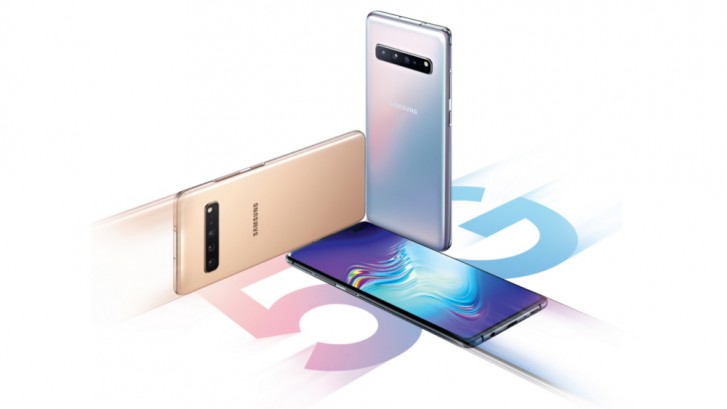 Triple Camera
The camera of the Samsung Galaxy A80 features a high-resolution 48MP wide-angle camera, an 8MP 123° FOV ultrawide camera, and a TOF 3D depth sensor for taking professional-quality shots with a blurred background. When you want to take a selfie, a tap of the screen activates the motorized camera. The back slides up and the rear camera flips around 180° to become the front camera. When you're done, it flips and slides back in place, looking like any other smartphone.